Ingredients: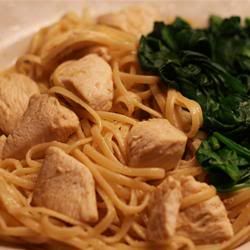 2 Skinless, Boneless Chicken Breast Halves – Cut into 2-inch Pieces
1/4 Lime, Juiced
1/2 Lemon, Juiced
4 Tablespoons Dijon Mustard
Freshly Ground Black Pepper
Creole-style Seasoning to Taste
Directions:
Place chicken in a skillet over medium heat. Pour in lime and lemon juices, and stir in Dijon, black pepper, and Creole-seasoning. Cook, turning chicken occasionally, until the chicken pieces are done, about 15 minutes.
Prep:  10 mins
Cook:  15 mins
Ready:  25 mins
Amount Per Serving – Calories:  301 / Total Fat:  3.1g / Cholesterol:  137mg / Sodium:  984 mg / Total Carbs:  10.5g / Dietary Fiber:  1.7g / Protein:  55g
Recipe from AllRecipes.com.