Ingredients: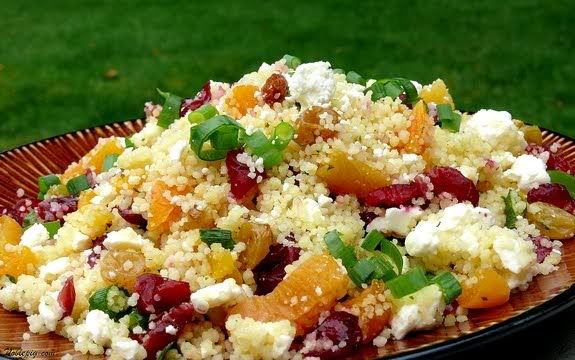 1/3 Cup Couscous
1/3 Cup Dried Cranberries
2/3 Cup Boiling Water
1/2 Cucumber, Diced
2 Tablespoons, Crumbled Feta Cheese
2 Teaspoons Balsamic Vinaigrette Salad Dressing, or to taste
Salt to taste
Directions:
Place the couscous and cranberries in a heatproof bowl. Pour in the boiling water, and stir with a fork. Cover the bowl with plastic wrap and set aside 5 to 10 minutes.
Fluff the couscous with a fork, and fold in the cucumber and feta cheese. Season to taste with balsamic vinaigrette and salt.
Prep:  10 mins
Cook:  0 mins
Ready:  15 mins
Amount Per Serving – Calories:  156 / Total Fat:  3.8g / Cholesterol:  8mg / Sodium:  364mg / Total Carbs:  25g / Dietary Fiber:  1.7g / Protein:  5.3g
Recipe from AllRecipes.com.